Podcast: Play in new window | Download
Subscribe: Apple Podcasts | Android | RSS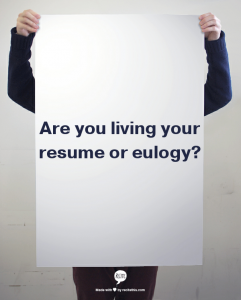 A question that is rarely asked, Are you living your eulogy or resume?  In today's podcast Tony examines a Third Metric in defining success, beyond power and money to include well-being and wisdom.
Quotes:
"Things which matter most must never be at the mercy of things which matter least."    –Johann Wolfgang von Goethe
Reflection:
If you were to die today, how would you like your life to be described at your funeral?
To subscribe to Tony's Quickcasts, link to iTunes here and download the entire series to your iPad or iPhone.  Simply click on THIS LINK.
We would love to read your comments, please feel free to share them  and don't forget to share on your social media sites using the links below.

Copyright secured by Digiprove © 2014 Tony Agnesi