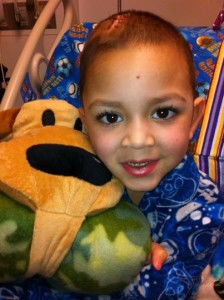 I made a new friend Sunday.  His name is Yan.  He is smart, handsome, funny, sincere and friendly.  On February 8th, Yan will be six years old.  Yan has a rare form of brain cancer Choroid Plexus, and for the past five and a half years, all he has known is surgery, chemotherapy, hospitals, and hope.
Yan was diagnosed when he was 6 months old. After his first surgery and chemo, his parents were told there wasn't much hope.  They refused to believe the prognosis and search the internet for a hospital or doctor who could help.  They found one in Boston at Tufts Medical Center and moved to Worcester to be close enough for treatment.
His journey has now taken Yan and his mom Yansen to the Cleveland Clinic for additional surgery and chemotherapy.  They have a house to stay in, but there are no furniture, bedding, dinnerware, silverware or kitchen supplies.  A group of people here in Cleveland and Akron are working to get them what they need for their stay.
Diane and I visited Yan and his mom this past Sunday.  They have no friends in Cleveland and were happy to have visitors.  Yan was wearing his Tom Brady Patriots jersey and was getting ready for the game against Denver that was about to start.  He stopped talking when they began to sing the National Anthem and placed his hand over his heart and nodded to Diane and I to do the same.  We had a nice visit and he and Diane played stickers and we all chatted.
I was touched by Yan's story when a friend, Jane, shared it with me.  Yan's picture looked so familiar until I realized that I have a similar photo of me at six years old that could be his twin! It was at that moment that I wanted to meet him.
Cancer can devastate a family, financially, physically, emotionally and spiritually.  And, only through the prayers and financial support of others can kids like Yan have a chance to make it.  Their problems make ours seem so petty.
A Facebook group, Yan's Fighters, was formed to keep people informed on his progress.  Through this group I have read about other kids with childhood cancers.  Many kids, just like Yan, whose only hope is for people like you and me to make childhood cancer research and treatment a national initiative.  And a family friend started a Go Fund Me site if you would like to make a financial contribution. What else can we do?
First, pray. Pray for a cure.  Pray that these kids have the strength to fight this terrible disease.  Pray for doctors to choose to specialize in the treatment of childhood cancer.
Secondly, watch this video and then go to thetruth365.org and sign the petition to be delivered to Washington.
And finally, help one kid if you can with your time or financial support.  This week, people asked me, Why Yan?  Why did you visit him?
Maybe it was because he reminded me of myself.  Or, maybe, it was because I am a cancer survivor.  Or maybe it was a God appointment, to open my heart to write this story.
Whatever it was, I can honestly say that last Sunday, I made a new friend.  And that new friend quickly became my hero.
To get Tony's latest posts delivered to your email every week, simply subscribe but clicking here. Remember, you will be sent an e-mail to verify your subscription.  Just click on the link and you're all set.
Thank you for sharing my stories with your family and friends.  Below are links to share on your social media sites.

Copyright secured by Digiprove © 2014 Tony Agnesi