Podcast: Play in new window | Download
Subscribe: Apple Podcasts | Android | RSS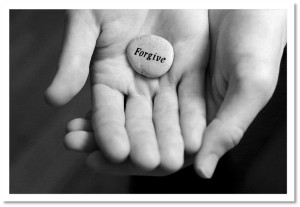 Anger is a banquet and you are the entree!  Tony discusses forgiveness as the key to getting rid of anger.
"Holding on to anger is like drinking poison and expecting the other person to die."  Buddha
"Holding a grudge is letting someone live rent free in your head."  Anonymous
"Anger is an acid that can do more harm to the vessel in which it is stored than to anything on which it is poured."  Mark Twain
"Forgiveness is the restoration of freedom to oneself.  It is the key held in our own hand to our prison cell." John Paul II
Comment
Over the past few years, I have shared "The Forgiveness Prayer" with prisoners in the jail, with friends and family members who are having problems with forgiveness and it has helped many.  The prayer is from a book by Betty Tapscott  and Father Robert DeGrandis S.S.J. Forgiveness & Inner Healing.

Reflection
Did the story of the holocaust survivors help you to realize you need to forgive someone in your life?  What are you going to do to be more forgiving?
To subscribe to Tony's Quickcasts, link to iTunes here and download the entire series to your iPad or iPhone.  Simply click on THIS LINK.
We would love to read your comments, please feel free to share them  and don't forget to share on your social media sites using the links below.