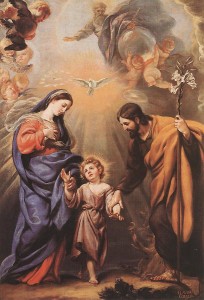 And whatever you do, in word or in deed, do everything in the name of the Lord Jesus, giving thanks to God the Father through him.  Colossians 3:17
Today is the feast of the Holy Family.  As I sat at mass this morning, I remembered a wonderful, older couple named The Holy's.  Now that's a tough name to live up to, but they do it quite well.  And, as fate would have it, her name is Mary and his Joseph!  Mary and Joseph, the Holy's.
My pal, Deacon Roger shared a story a while back about a visit to the Holy's to bring them Holy Communion.  As they prayed and he prepared to give them the Eucharist, he thought, Mary, Joseph and Jesus!  Deacon Roger exclaimed, "Now, that's truly the Holy family."
Do you have a holy family?  Do you want your family to be Holy?  As with this couple, the ingredient that made this a Holy family was Jesus!  Just as with the feast we celebrate today, it was Jesus that made His own family holy.
It's pretty simple.  If you want your family to be holy, you need to include Jesus in it.  You need to make Jesus part of your family.  What are some ways to include Jesus in everything you family does.  Here are a few thoughts:
 

Keep pictures of Jesus in your house.

  Many families have pictures throughout their house of family members.  Graduation pictures, wedding pictures, soccer pictures, school class pictures and on the walls, desks, and tables.  Why not a picture or two of Jesus.  After all, he is a family member too.

Include Jesus at your meals.

  Whenever you sit down as a family to have dinner, include Jesus.  A simply grace before meals will make our Lord part of your family gathering.

Talk about Jesus at your home

.  We are quick to talk about our son's basketball game or daughter's gymnastics meet.  We can recall particular plays in the game or triumphant moments.  We even tend to brag about them.  How about Jesus!  Talk about him, as well, share your thoughts about him.  After all, he is part of your family too.  And if you want to recall a triumphant moment of his, I'd start with the resurrection!

Attend mass or church services every week.

  In all the years my kids played sports, I never missed a game.  If Jesus is part of my family, I should want to attend his events as well.  I was always certain that if I missed a game, it would be the game where they were the star.  And, Jesus is a superstar every Sunday.
To overcome today's individualistic mentality, a concrete commitment to solidarity and charity is needed, beginning in the family.   Pope John Paul II, the Hundredth Year, #49
As this morning's mass was ending, I was moved to see 12 extraordinary ministers of Holy Communion coming to the alter to receive the Blessed Sacrament to bring to people in the parish that were sick, elderly, in nursing homes, or unable to make it to mass.
They would be bringing Jesus to these people, and just as my friend Deacon Roger did, they would be adding the necessary ingredient, Jesus, to make theirs a Holy Family.
On this feast of the Holy Family, God's blessing to your family today.  Remember to make it a holy family by keeping Jesus part of it.
To get Tony's latest posts delivered to your email every week, simply subscribe but clicking here. Remember, you will be sent an e-mail to verify your subscription.  Just click on the link and you're all set.
Thank you for sharing my stories with your family and friends.  Below are links to share on your social media sites.

Copyright secured by Digiprove © 2013 Tony Agnesi