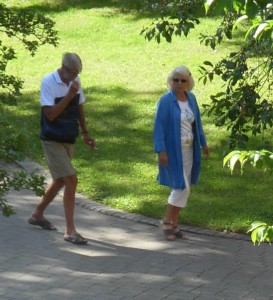 Therefore, we are not discouraged; rather, although our outer self is wasting away, our inner self is being renewed day by day. For this momentary light affliction is producing for us an eternal weight of glory beyond all comparison, as we look not to what is seen but to what is unseen; for what is seen is transitory, but what is unseen is eternal.     2 Corinthians 4-16:18
Do you ever wake up feeling great, that is, until you try to get out of the bed!  Every ache and pain seems to rear its ugly head.  You have sore knees, ankles that won't bend, and you are slumped over from the lower back pain.  At that moment, you realize that you are getting older.
I feel this way every morning as I rise to go to morning mass.  As I get older, the things I took for granted as a younger person have started to affect everything.  But then, it's off to mass, breakfast and on to work.
In 2 Corinthians, Paul tell us that this is going to happen, that our outer self is wasting away, but that we shouldn't be discouraged.  As our outer self is wasting away, our inner self should be being renewed day by day.  That's how I feel following mass.  Encouraged, feeling renewed in my faith, and ready to endure the temporary physical pain, for the eternal spiritual glory that lies ahead in heaven.
As our bodies weaken, our spiritual life is strengthened, preparing us for the "glory beyond comparison!"
For I am already being poured out like a libation, and the time of my departure is at hand.  I have competed well; I have finished the race;I have kept the faith.  2 Timothy 4:6-7
We know that our time on earth is temporary, that we all will die.  But we have a tendency to concentrate on those things that are temporary as well.  Only as we age, do we begin to make the connection and start to concentrate on those things that are eternal.
We experience life in the midst of dead, see glory at the end of suffering, and fix our eyes on the eternal reality.
Getting older is a blessing.  What we lose in our physical bodies we gain in our spiritual understanding.  We understand that while we are shedding the temporary, we are gaining the eternal, eternal life.  Isn't God's plan wonderful!
To get Tony's latest posts delivered to your email every week, simply subscribe but clicking here. Remember, you will be sent an e-mail to verify your subscription.  Just click on the link and you're all set.
Thank you for sharing my stories with your family and friends.  Below are links to share on your social media sites.

Copyright secured by Digiprove © 2013 Tony Agnesi