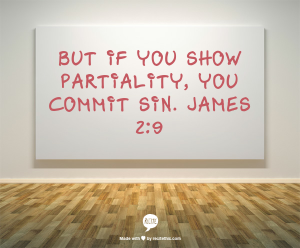 My brothers, show no partiality as you adhere to the faith in our glorious Lord Jesus Christ. For if a man with gold rings on his fingers and in fine clothes comes into your assembly, and a poor person in shabby clothes also comes in, and you pay attention to the one wearing the fine clothes and say, "Sit here, please," while you say to the poor one, "Stand there," or "Sit at my feet," have you not made distinctions among yourselves and become judges with evil designs?  Listen, my beloved brothers. Did not God choose those who are poor in the world to be rich in faith and heirs of the kingdom that he promised to those who love him?But you dishonored the poor person. Are not the rich oppressing you? And do they themselves not haul you off to court?  James 2:1-6

A rich celebrity walks into a restaurant with his entourage.  Immediately, the hostess spots him and runs to the kitchen to tell the owner that a celebrity is in the restaurant.  Hurriedly, the owner rushes to greet the celebrity and seat him and his group at the best table.
The chef makes an appearance at the table and offers to prepare a special meal for the group.  The waitress goes the extra mile to keep their water and wine glasses full and the service is first class.  The owner returns to the table to inform the celebrity that dinner was on the house tonight, that he had taken care of everything.  A few hours later the entourage leaves the restaurant, no bill, no tip for the amazing service.
That same evening, at the alley door adjacent to the kitchen, a homeless family appears and appeals to the owner, "Can you help us?  Our family has nothing to eat.  Can we have some of the left over bread that was returned to the kitchen uneaten or some leftover soup?"
The owner grows impatient, "We have nothing to offer you, please leave the alley before we have to call the police!"  Later, from a distance, they watch as bread and leftover food is carted to the dumpster as the restaurant is preparing to close for the night.
This scene happens often, in restaurants across the country.  And, this happens not only in restaurants.  A celebrity is in town and wants tickets to the big basketball game that night.  At the last minute a pair of court side seats are made available and the celebrity is offered them for free.
The person most financially equipped to pay, watches the game for free, and yet, a working class father of two, must pay $50 bucks a seat for his family, not to mention the $10 dollar beers and $6 dollar cokes!
In James 2:1-4, we read the about the sin of partiality.  I'll bet many have never heard of this sin.  We, as Christians are forbidden to hold the faith with partiality.  But, we do.  It is incompatible with our faith.
James lists five things that are wrong with showing partiality, favoritism, or prejudice;
 In verse 1, it says that it is inconsistent, if we adhere to our faith in Jesus.
In verse2, we become judges of who is and who isn't worthy.  That's not our job as Christians.
In verse 5, we are asked to remember that God favored the poor to be rich in their faith.
In verse 6, we dishonor the poor, simply because of social or financial status.
In verse 9, we violate the law of "love thy neighbor."
Yet, we are all guilty of partiality.  We live in a society that puts way too much emphasis on celebrity, wealth and fame, and not enough thought on loving thy neighbor, no matter their circumstances.
But if you show partiality, you commit sin, and are convicted by the law as transgressors. James 2:9
Let's make an effort this week to downplay celebrity and concentrate on loving our neighbor, especially those in need.  Let's be conscious of our sin of partiality.  It is what Jesus asks of us as his followers.
To get Tony's latest posts delivered to your email every week, simply subscribe but clicking here.
Thank you for sharing my stories with your family and friends.  Below are
links
to share on your social media sites.  Your sharing my stories helps to get the word out.

Copyright secured by Digiprove © 2013 Tony Agnesi