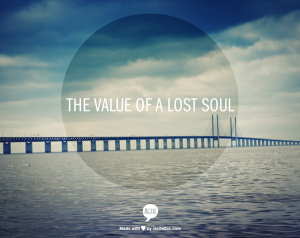 "I tell you, in just the same way there will be more joy in heaven over one sinner who repents than over ninety-nine righteous people who have no need of repentance. Luke 15:7
"In just the same way, I tell you, there will be rejoicing among the angels of God over one sinner who repents."  Luke 15:10
"But now we must celebrate and rejoice, because your brother was dead and has come to life again; he was lost and has been found." Luke 15:32
As the female inmates entered the classroom, I couldn't help but notice that one of the inmates was pregnant, and from the looks of things, was close to her delivery date.  As the service began, I had a feeling that we should offer prayer for her and her unborn baby.
When I asked if we could pray for her and her baby, her eyes began to tear up.
She said, "No one has ever asked me that before, no one has ever prayed for me."
As we spoke softly, she told of how she was always told that she was worthless, that she was useless, and no one even cared if she were dead or alive.  I could see that she wasn't suffering from LOW self-esteem, but NO self-esteem!
It reminded me of something a good friend once shared;
The value of a lost object doesn't lessen just because it is lost.  A lost $20 dollar bill is still worth $20 dollars.  Its maker determines its value, not its situation.
The same is true for a lost soul, it still has great value, because its Maker, God, establishes its value, and God doesn't make worthless or useless souls!
In Luke Chapter 15, Jesus shares three parables about lost things and their value.  In all three, the lost sheep, the lost coin, and the lost son, he ends each story with his concern for the lost and God's love for a repentant sinner.  Jesus values lost souls.
This poor girl has been beaten down for so long she doesn't realize that she has great value in God's eyes.  Like the shepherd who left the ninety-nine to go after the lost one, we should all join in rejoicing that this lost sheep has been found.
I asked the other inmates and ministry team to lay hands on this inmate and pray for her and her baby.  As we began to pray, several of the other inmates prayed aloud for her and for a healthy baby.  They prayed that she would get her life together and become the person and mother she was meant to be.
She was in tears, but the good kind.  She realized that she was loved and the concern for her and her baby was genuine.  For the first time, someone said she was special, a loving person, and would be a great mother.  She wasn't worthless or useless.  People cared for her.
Most people have never witnessed inmates praying for another inmate, but I can tell you that these prayers are very powerful, offered through the power of the Holy Spirit.
"First of all, then, I ask that supplications, prayers, petitions, and thanksgivings be offered for everyone,for kings and for all in authority, that we may lead a quiet and tranquil life in all devotion and dignity. This is good and pleasing to God our savior,who wills everyone to be saved and to come to knowledge of the truth"   1 Timothy 2:1-4
These may be lost souls NOW, but they still have great value.  In 1 Timothy 2:1-4, we learn that Jesus wills everyone to be saved, even those in prison.
Before we begin to judge others, please remember the story of the $20 dollar bill.  Its value is not diminished because it is lost.  And when a lost soul is found, there will be much rejoicing in heaven.
If we judge less and love more, we can all be an instrument to make this happen.  Jesus, make me an instrument of your peace!
To get Tony's latest posts delivered to your email every week, simply subscribe but clicking here.
Thank you for sharing my stories with your family and friends.  Below are
links
to share on your social media sites.  Your sharing my stories helps to get the word out.