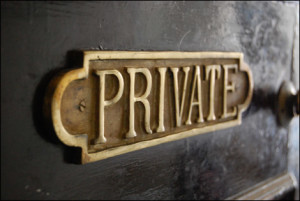 Go, therefore, and make disciples of all nations, baptizing them in the name of the Father, and of the Son, and of the Holy Spirit teaching them to observe all that I have commanded you. And behold, I am with you always, until the end of the age."  Matthew 28:19-20
There seems to be a groundswell of opinion among secularists in the United States today that your religious beliefs should be personal.  I agree. My beliefs are very personal.
But they take it one step further.  They say that my beliefs should also be private.  And that is impossible for a Christian!
If I am truly living my faith, then I MUST share it with others.  Good news is to be shared! It would be a selfish act, and un-Christian, not to share my faith.
If we are living our faith, then our actions, the way we treat people, the love we show for others, our respect for the elderly, compassion for the poor, all are seen publicly.  You can't hide your faith, if you are living it!
As St. Francis of Assisi said, "Preach the Gospel at all times, and when necessary use words."  We share our faith simply by the way we live.
In the Gospel of Matthew, Jesus gave us a commission, to go and make disciples of all nations.  We can't live that commission if our beliefs are private.  The secularists know this, I wish more Christians did.
My faith is very personal, but it can never be private. And neither can yours.