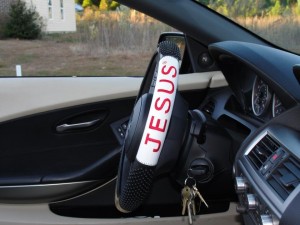 He who plans a thing will be successful; happy is he who trusts in the Lord!  Proverbs 16:20
But he who trusts in the Lord will prosper.  Proverbs 28:25
The fear of man brings a snare, but he who trusts in the Lord is safe.  Proverbs 29:25
As we made our way down Interstate 77 on our annual vacation trip to Florida, everything was going just as I had planned.  We had just finished a nice dinner in Charlotte and we were making our way to Orangesburg, South Carolina for the night.  Light traffic, the radio playing the local country station, I was totally in control, just the way I like it.
Then, my navigation screen flashed, the car slowed to 40 mph, and the message on the navigation system read, "Powering Down, Seek Service Immediately!"
"What the #$@&!, I exclaimed!  Just then, the car powered down to 20 mph, and with the traffic that night going 75 to 80, it was time to pull over to the side of the road.  Our perfectly timed trip, planned for weeks, was now out of my hands, and I didn't like it.  I could feel my temper flaring, I was angry, and out of control.
As I pulled over to the side of the road, Carrie Underwood was singing her hit song, Jesus, Take the Wheel. As she belted out the line, I had a flashback to when I had been diagnosed with cancer eight years ago.  I wasn't going to be in control of that situation.  I was going to be poked and prodded by doctors and nurses, and I really didn't have much say in what was going to happen.  I had to trust in the Lord, and let Jesus take the wheel.  At that moment, I decided this situation required doing the same thing.  Jesus, I prayed, help us.
The sequence of events that happened next were nothing short of divine intervention.  The state highway patrolman happened to know a tow truck driver that lived less than 5 minutes away.  He was willing to come down and tow us to the nearest dealership 40 miles away in the small town of Winnsboro, South Carolina.  The dealership was small, but Susan, in the service department was amazing.  She was able to get James, a local gentleman to drive us to Columbia, South Carolina to get a rental car (the computer part we needed would take several days to get and install) and then pick us up again to return to the dealership to get our car at the end of our vacation.
By letting Jesus take the wheel, there is no telling what this delay might have prevented.  Perhaps, there was a major accident that we avoided.  Maybe breaking down in the mountains of Virginia or West Virginia would have been a disaster.  Maybe, this was supposed to happen just the way it did.  Maybe the Lord was really looking out for us.  We will never know.
But, what I do know is that as much as I am a control freak and want everything to go as planned, that, in reality, I am not in control!  When I realize that everything is in God's hands, and I simply trust in him, things just seem to work out better.  The more I learn to trust in him, the better my life has gotten.  Maybe the cancer surgery helped to make this point in a way that even a control freak would understand.
Now, when things seem out of my control, I'll simply say, Jesus take the wheel!  Jesus, I trust in you.
To get Tony's latest posts delivered to your email every week, simply subscribe but clicking here.
Thank you for sharing my stories with your family and friends.  Below are links to share on your social media sites.  Your sharing my stories helps to get the word out.