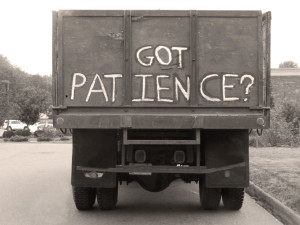 Put on then, as God's chosen ones, holy and beloved, heartfelt compassion, kindness, humility, gentleness, and patience, bearing with one another and forgiving one another, if one has a grievance against another; as the Lord has forgiven you, so must you also do.  Colossians 3:12-13
Every one of us has a core sin that we just can't fix, for me its impatience, and it really bugs me.
I don't know why, but I am always going through life at 100 mph.  And, because of the speed at which I live my busy life, I expect others to either travel the same speed or just "get out of the way!"  I mean, I really want to be more patient, but I am bothered by several things:
 People who come down the escalator and when they get off they just stop, that's right, STOP, and block the entire flow of people getting on and off.  They stare into space, as if to be taking in all if the fabulous merchandise awaiting them, but, completely oblivious to the traffic jam that are causing.
I hate it when a group of people wall three of four abreast blocking the entire hallway and then slow down and even stop to make a salient point in their discussion, again, with no regard for the 50 people they are blocking.
I hate drivers who insist to driving in the passing lane, at least 10 miles per hour below the speed limit, and talking on their cell phones.
I hate women drivers, also in the passing lane, putting on their make-up in the visor mirror, or even the guy I saw this week shaving!
And these are just a few!
That is why I'm beginning to think that the Lord has a bizarre sense of humor.  Because ALL of these disruptions happened this week!  I mean, it was bad enough that I had to follow the school bus that stopped every third house to pick up kids, but then I got behind a semi-truck that I had to follow for close to 50 miles on a snow covered road with mostly no passing zones. OK, Lord, I give!
So what can I do?  I think some of the answers lie in the original Serenity Prayer:
I need to accept the things I cannot change

.  No matter what I do there will always be people that are completely oblivious to their surrounding and will continue to do what they do.

I need to enjoy the moment

.  If I am delayed by one of these rude, self-centered morons, I need to turn my attention to other things, the sunlight, the trees and grass, the classic corvette in the other lane, or maybe prayer, anything.

I need to accept the world as it is,

not as I would want it to be. I need to do this, just as Jesus did.

I need to trust in God, and surrender to his will,

knowing that he will make things right.
Oh, and one more thing, I need to get started right now!  Lord, teach me patience.
-O-
To read the Original Serenity prayer, Click Here.
To get Tony's latest posts delivered to your email every week, simply subscribe but clicking here.
Thank you for sharing my stories with your family and friends.  Below are
links
to share on your social media sites.  Your sharing my stories helps to get the word out.