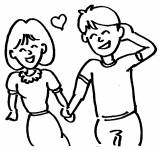 My mom was a very spiritual woman.  One of her favorite devotions was to attend mass on the nine first Friday's of the month, in honor of the Sacred Heart of Jesus. It's an old devotion and the promises have wonderful graces attached.  Often, I would attend mass with her on these days.
Several years ago, my wife, Diane and I were discussing this devotion and decided to give it a try.  We made the first Fridays of the month for a couple of years faithfully and then one day she said, "Why don't we just go to mass every Friday?"
"You know, that's a great idea!" I replied.  "And after mass, we can go to breakfast together. It would be like a date every Friday morning."
That was over a decade ago, and every Friday, without fail, we go to mass and then to breakfast.  It has become our weekly daytime date!
In this busy world, where it is difficult for married couples to find the time for meaningful one on one conversation, our weekly date has become a blessing.  We have discussed every imaginable topic and have never run out of things to discuss.  And it has brought us closer together.
Whether it's mass and breakfast, or some other combination of spiritual and shared time together, it is important to make it an unbreakable pact.
When our sons were  little, we would go to vigil mass on Saturday evenings then go to dinner as a family.  It was something that our kids always looked forward to.  It doesn't have to be an expensive restaurant, just a place where we can all be together and share our lives.
For Diane and me, no matter what the week's problems, challenges, or appointments, Friday morning is sacred.
Why not give something like this a try?  Try to find and time and combination that would work for you as a couple or as a family. And make it non-cancellable.
Hey, how bad can it be?  Like me, you will always have a Friday date!
Read more about the Nine First Friday devotions and the promises, click here.
To get Tony's latest posts delivered to your email every week, simply subscribe but clicking here.
Here are a few of Tony's most popular stories of 2012:
Thank you for sharing my stories with your family and friends.  Below are links to share on your social media sites.