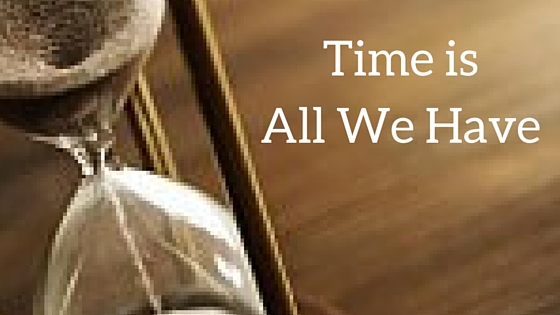 Do not regret growing older. It is a privilege denied to many. –Unknown
Eight years ago yesterday, I had cancer surgery.  It was a scary time, but one that I wouldn't trade.  I learned many things, the most important of which is the value of time.
Most of us live as if we will be around forever. We say, "I don't have time for that" or "I'll start going to church when I am older, right now I just don't have the time."  It reminds me of the Kenny Chesney song, "Everybody wants to go to heaven, but nobody wants to go now!"
We are quick to procrastinate, to put off what we can do later.  But for some of us, there won't be a later.  Ultimately, this misuse of time is a denial of death.  We just don't realize how precious time really is.  I know I didn't, until the thought of that time being shortened hit me before my surgery.  I went about my life as if I had all the time in the world.
We really need to focus on what is important, on what things are our best uses of time. We need to think about what use of time will bring us the best reward.  Time is all we have.
When I see a workaholic friend bemoaning that fact that he has no time, I remind him that I have never met a man on his death bed who said, "I wish I would have spent more time at work!"  More time with his wife, family, friends, more time in prayer, serving others, but never more time at work.
Eight years following my surgery, I still feel like I am on borrowed time. And even though five years is considered a cure, this feeling is a good one. It makes me value every minute.  I'm one less rat in the rat race!
Faith, family, and friends, these are what is important.  Enjoy every moment.
Randy Paush, of the "Last Lecture series" fame said, "Time is all we have. You may find one day that you have less than you think."
Carpe Diem, my friend.
To get Tony's latest posts delivered to your email every week, simply subscribe but clicking here.
Here are a few of the most read stories of 2012, in case you missed them:

Copyright secured by Digiprove © 2016 Tony Agnesi