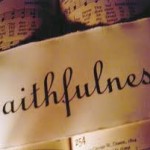 The reward of being 'faithful over a few things' is just the same as being 'faithful over many things'; for the emphasis falls upon the same word; it is the 'faithful' who will enter 'into the joy of their Lord.'
– Charles S. Robinson
When people think of Italian-Americans they automatically assume that you are Catholic.  And, usually that's true.  So when I tell friends that my father was an Italian Methodist, they look at me in dazed confusion.
When my father and mother married, my dad agreed that his children would be raised in my mother's Catholic faith, an agreement that he took seriously.
Each week he would drive my mom, my sister and me to 8:30 AM mass at our little church, St. Francis.  While we were at mass, he would drive across town to St. Dominic's and pick up the Dominican nuns that would teach our CCD (Sunday school) class following mass.
He would then wait in the car for class to be over, reading the Sunday newspaper, or listening to the Italian Show on one of the local AM stations.
Then, he would bring the sisters back to St. Dom's, drop my sister and I off at home, and drive to his own Methodist church for services at 11 AM!
That was his routine, every Sunday, without fail for over 12 years!  You see when my dad made a promise; he meant it and kept it.
Over the years, I often wondered why he just didn't go to mass with the rest of the family.  In my teen years, I would even pray for his conversion.  But, somehow, I never was able to broach the subject with him.  What I did know is that he was faithful not only to the promise he made to raise us in the Catholic faith, but was faithful to his own upbringing.
In my collections of Bibles and Christian books, none are more valuable to me than the small bible he carried with him during World War II, a bible that was a gift to him from his church for all of the handyman work he had done there, and two Methodist Hymnals, one his and the other my grandfathers.
One of the greatest lessons my dad taught me was faithfulness.  He was faithful to God, faithful to his wife and family, and faithful to his friends.  He was a good man, a good Christian, and truth be told, a better Catholic than most.
Anthony Agnesi, Sr. was born January 31, 1920, son of Cono and Frances Agnesi.  This coming Thursday,  he would have been 93 years old.
To get Tony's latest posts delivered to your email every week, simply subscribe but clicking here. Remember, you will be sent an e-mail to verify your subscription.  Just click on the link and you're all set.
Here are a few of the most read stories of 2012, in case you missed them:
Thank you for sharing my stories with your family and friends.  Below are links to share on your social media sites.