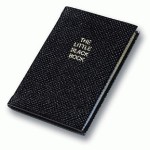 And the prayer of the faithful will save the sick person, and the Lord will raise him up.  If he has committed any sins, he will be forgiven.  James 5:15
Growing up in the 60's, I realized that no self-respecting bachelor would be caught dead without his little black book.  The little black book was the place where he kept track of all the beautiful women he was dating at the same time.  The book would have a name, a number, (as in, she's a 10!), her city and her telephone number. Some would also note whether she was a good girl or a bad girl!
I have to admit, I never had a little black book, until now!  And, my wife is aware of it and even approves!
On the nightstand next to my bed, I keep my little black book.  And like the bachelors book in the 60's, it has the names of many women.  Only my little black book has the names of the women that I am praying for in prison.  I have their name, and a number.  Only this time the number is the number of years they are serving, and it has the name of her prison and her prison number. Society would say they were all bad girls, but I know better.
In my jail ministry, I have met many women inmates.  Most have dysfunctional lives; many have little or no self-esteem but most are decent women that simply have made bad decisions.  I always treat them with love and respect, the kind of love that most never got from a father or grandfather.
Following their sentencing and before they are transferred to prison, some will hand me a slip of paper with their name, prison, number of years they will serve.  And, they will ask me to pray for them.  And I do pray for them.
I look at my list each week and some have served their time and have been released.  Others are still in prison.  I can only hope that those who have served their time have gotten or will get some help to never return.  For those women, I continue to pray each day.
My little black book contains other names as well.  It has all of the people I am praying for, especially those that have asked for prayers.
Intercessory prayer is a powerful part of the communion of saints, and we have the ability to multiply the prayers going to God, through Jesus, by our commitment to pray for others.  Why not start your prayer list today.  You too can have your "little black book", and pray for those who have no one else to pray for them.
To get Tony's latest posts delivered to your email every week, simply subscribe but clicking here.
In case you missed them, here are a few of Tony's most popular stories: