Hear, O Israel! The Lord is our God, the Lord alone!  Therefore, you shall love the Lord, your God, with all your heart, and with all your soul, and with all your strength.  Take to heart these words which I enjoin on you today.  Drill them into your children.  Speak of them at home and abroad, whether you are busy or at rest.  Deuteronomy 6:4-7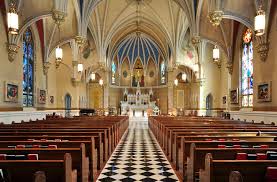 Faith was the center of my mother's life.  Everything revolved around the church; mass, confession, holy days, and Christmas and Easter.  She was a tireless worker, and with a few of her like-minded friends, she kept everything at our tiny little church shiny and clean.  The priests vestments and every alter cloth were pressed to perfection.  All of the candle holders were polished to a brilliant shine.
My mom was also a stickler for attending mass and confession.  As a kid, I never got away without attending Sunday mass and every week, it was confession on Saturday mornings.  And, because the church was so small, I served mass as an altar boy until I was in my early 20's.  And that included weekday masses, holy days, and lots of weddings and funerals.
It wasn't really my choice, my mom MADE me go!
As I look back now, it was the faith that my mother passed on to me that has sustained me in tough times;  colon cancer, hepatitis C,  pneumonia,  and family tragedies.
And it's the beautiful faith of my wedding, the baptism of my sons, birthdays, holidays, beautiful Christmas and Easter family gatherings.  All of these are centered in the faith my mother FORCED on me.
Thank you Mom!  I didn't realize it then, but now I see that my faith in Jesus Christ and his Holy Catholic Church was the greatest gift I have ever received.  Sometimes the  greatest gifts we receive are the ones that we fail to appreciate until much later in life.  Thanks, mom, for making me go.
My mother, Lucy Marciano Agnesi, was born on November 11, 1914. Today, she would have been 100 years old. Happy birthday, mom.
To get Tony's latest posts delivered to your email every week, simply subscribe but clicking here.

Copyright secured by Digiprove © 2014 Tony Agnesi