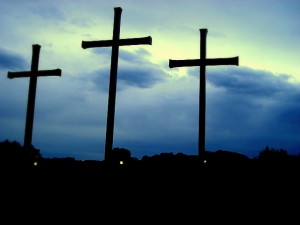 God is faithful; he will not let you be tempted beyond what you can bear.   But when you are tempted, he will also provide a way out so that you can stand up under it.  [1 Co 10:13].
I was tired after a long day as the final group of inmates entered the classroom at jail that evening.  There were three men from the segregation pod and I shook hands with each of them as they entered the room.
"Please don't shake my hand too hard," one of the prisoners whispered, as I reached out my hand to greet him. "I have cancer."  As we took our seats, with Theresa, George and me facing them, I asked, "tell me about your cancer?"
He mentioned the long medical name for what type he had, and it is too long for me to remember.  But, he said that he had tumors in just about every organ in his body, all except his brain and lungs.
"What's the prognosis," I asked? "A year to maybe three," was his response.
As we discussed his case, we learned that he had recently been convicted.  He was told however, that he would probably win in an appeal.  He said that he was innocent.  "How long does an appeal take," I inquired?
"About a year," he said, "and I might be dead before I am exonerated."
The second man offered that he had been recently convicted and sentenced to 25 years to life. "I took a plea bargain," he offered. "I was facing multiple life sentences. I'll be 63 years old before I will come up for parole."
"You seem at peace with this," George asked?  "Yes, I'm at peace and I plan to use my time in prison to bring other men to Christ!"
When we turned to the third inmate, he swallowed hard and said, "I've been a jerk all my life, but today I'm 50 days sober.  I have traumatic stress syndrome, I been shot in the head and out my neck, I have brain damage, and deep depression and mood swings."
"Wow," I thought, as I choked back tears.  I can't think of three more difficult fates.  One man is dying, another faces 25 to life in prison, and the third, brain damage and a lifetime of mental health issues.  Of these three crosses to bear, which would I choose if it had to be one of these?
"We would like to pray for you," I offered, not being able to think of anything we could say to ease their individual pain.  "Yes, that would be great," the dying prisoner replied.
Then, Theresa led us in prayer, and one by one we prayed for the inmate facing death.  I was particularly moved by the prayer of the lifer.  He felt that the dying mans fate was the worse than  his and he prayed the most beautiful spirit filled prayer.
One by one, we laid hands and prayed for each of the three men.  Each made a statement that theirs was the easiest of the crosses to bear.  Each felt more compassion for the others than the need for it themselves.  It was a powerful reminder that each of us bears a cross as well, and only we can carry it.
It reminded me of the story of the man who prays to the Lord to "take this cross from me."  Jesus takes the man into a room with crosses of all sizes, weights, and designs.  As the man circles the room trying on cross after cross, he returns to the Lord and says, "Jesus, I'll take this small one here."  Jesus replies, "Sure, that's the same one your came in with."
Which of the three crosses would you choose?  Or, would you rather keep the one you've got now?  As for me, I'll keep mine, and continue to pray every day for those whose crosses would be too heavy for me to handle.  These three men are carrying heavy crosses; please keep them in your prayers tonight.
Tony posts a new story every Sunday night and occasionally Thursday mornings.  To receive the update delivered to your email every week, simply subscribe but clicking here.

Copyright secured by Digiprove © 2014 Tony Agnesi