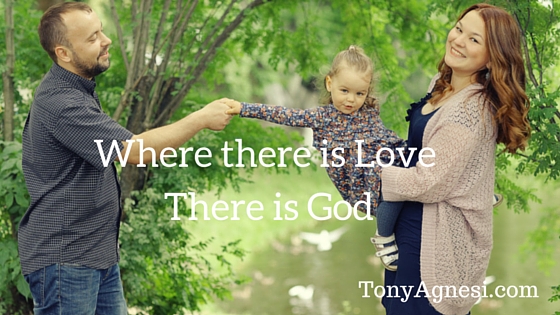 "We have come to know and to believe in the love God has for us. God is love, and whoever remains in love remains in God and God in him." –1 John 4:16
I am in awe of young parents and their never ending battles with keeping up in this fast-paced, always-connected world we live in. With soccer practice, gymnastics, diaper bags, and juggling jobs, family life and their kids busier than ever social schedules, there just isn't much time for God.
These days, life moves at a fever pitch.  For those of us a bit older, we long for simpler times, when life just seemed to move more slowly.  We had more time for family, friends and God, but times have really changed!
Many older adults are quick to criticize and ask the question, "Where is God in all of this?"  Blessed Mother Teresa offers this,
"What you are doing I cannot do, what I'm doing you cannot do, but together we are doing something beautiful for God, and this is the greatness of God's love for us." —Mother Teresa, from Where There Is Love, There Is God
Parenthood has become a full-time job!  As we long for a time when kids just went outside to play until called home, now we spend every waking minute worrying about our kid's safety.  While we recall a time when we worked for the same company for 40 years and retired with a gold watch, today's parents worry about the next round of layoffs and whether that can find another job.
We need to give young parents a break!  This isn't 1950 and they are doing the best they can, and they are doing it with great love.
If God is love, as we read in 1 John 4:16 and we abide in Him, then, where there is love, God is there too!  The love and attention that they give their children is proof positive that God is with them!
"Where God is, Love is."  –Leo Tolstoy
Here are some hopefully encouraging thoughts for young parents:
God loves us! Isn't that cool!  John reminds us, 'if we love one another, God remains in us, and his love is brought to perfection in us."  (1 John 4:12) The more you love your kids the more you are bringing God's love to perfection.
God abides in us, if we abide in Him. What does abide mean?  In this context it means to stay or remain with Him, as John tells us, "Whoever acknowledges that Jesus is the Son of God, God remains in him and he in God."  ( 1 John 4:15) It's that simple.  If we believe that Jesus is the Son of God, He is with us.
God wants good things for us. If we truly believe, then we shouldn't fear the future.  "There is no fear in love, but perfect love drives out fear because fear has to do with punishment, and so one who fears is not yet perfect in love." (1 John 4:18)  Our worries should be replaced with faith that God will see us through tough times, job loss, financial problems, sickness or pain.
God is always there for us. No matter how busy we are or how frazzled our day has been, we can always call on God for help.  We can maintain a constant dialogue with God throughout the day.  It's easy and it's the simplest form of prayer.
God knows our sacrifice. Just getting kids ready for Sunday mass is a chore.  Getting everyone dressed, packing the diaper bag, car seat, a few books to help with distractions, and that zip lock bag of cheerios takes time.  Sometimes it feels like it's not worth it.  Believe me, it is!
No matter what others might say, I am one older adult that appreciates parenthood 2016 and the sacrifices you are making.  When I see the love couples share with each other and with your children, I know that God is there too!  As we sing in the beautiful old Latin hymn, "Ubi caritas et amor, Deus ibi est,"  which means, "Where charity and love are, God is there."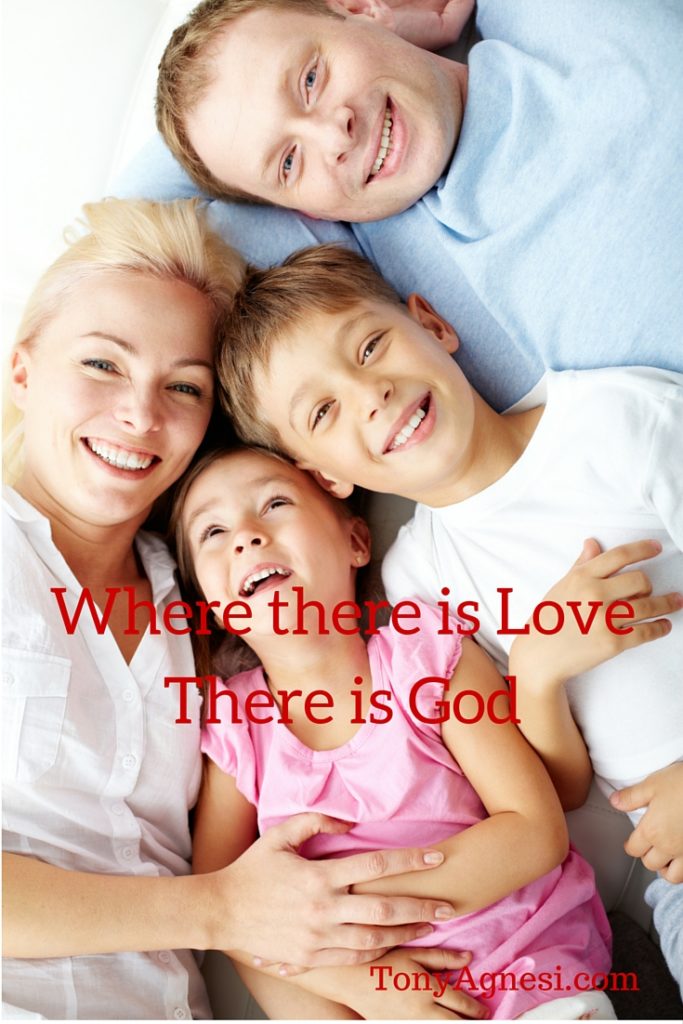 To get Tony's latest posts delivered to your email every week, simply Subscribe by clicking here.
Thank you for sharing my stories with your family and friends.  Below are
links
to share on your social media sites.  Your sharing my stories helps to get the word out.

Copyright secured by Digiprove © 2016 Tony Agnesi