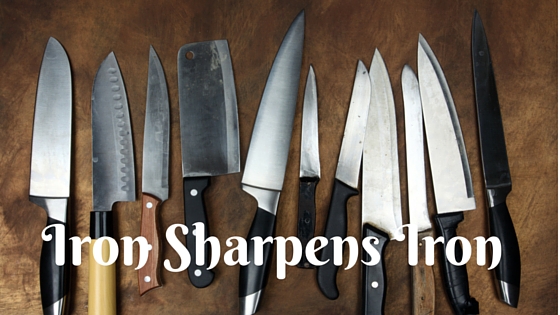 "Iron is sharpened by iron; one person sharpens another." — Proverbs 27:17
Yesterday, as I sat at daily mass, it occurred to me that I was surrounded by a dozen male friends. We sit together at daily mass and go to breakfast or out for coffee a few times each week. We even have a name for our group, "Fools for Christ" taken from 1 Corinthians.
"We are fools on Christ's account, but you are wise in Christ; we are weak, but you are strong; you are held in honor, but we in disrepute." — 1 Corinthians 4:10
We are all different in many ways. Some are employed, some unemployed, some retired. We work in a variety of fields from insurance to taxes, communications to medicine, and pharmaceuticals to construction.
And, we all have different interests and ministries. Some are involved in healing ministry, some serve the homeless, other are involved in Legion of Mary, St. Vincent DePaul and catholic radio.
Yet, we all have one thing in common, our love for Christ and his church.
And, just as iron sharpens iron, we sharpen each other!
Unless you haven't been paying attention, we have a crisis in Christianity. Fewer and fewer people are attending mass and Sunday services. Church attendance has fallen from over 80% in 1950 to just over 20% today. A disproportionate share of that decline is among men.
More and more, men are attempting to navigate the tough problems of life alone. They have no one to share their frustrations with, no one to go to for advice, no one to hold them accountable and no one to pray with.
"The LORD God said: It is not good for the man to be alone. I will make a helper suited to him." –Genesis 2:18
God never intended man to go it alone. We need friends.
A dull knife is still a knife, but when sharpened, it is sharper, brighter, and fit for use. The same is true for men. A man going it alone is still a man, but he is dull, sad and inactive, and sometimes confused and paralyzed.
But, friendship is like the sharpening instrument. It sharpens our thinking, refreshes our direction, revives our love of God, and clarifies our actions.
Two of the same knives can't sharpen each other. It takes a different kind of iron to sharpen them. The fact that my friends are all different gives each of us the opportunity to sharpen others. We all have our strengths and weaknesses and I have learned something different from each of them.
Spending time together gives us a chance to pray, encourage, exhort, admonish and help each other. Sharing the word of God is like that "two-edged" sword that strengthens each of us.
"Indeed, the word of God is living and effective, sharper than any two-edged sword, penetrating even between soul and spirit, joints and marrow, and able to discern reflections and thoughts of the heart." –Hebrews 4:12
If you are struggling and going it alone, you should try finding a group of men you can join. It was easy back in college, but those guys are gone. You need to find some new friends. Here are a couple of suggestions:
Seek out a men's group at church. Often, you can join a bible study, men's prayer group, or service project that will help introduce you to some new people. Our "Fools for Christ" group came about from the merging of several other groups that disbanded.
Find or start your own breakfast or lunch group. Years ago, when I lived in Atlanta, we had a group of guys that met for lunch on Wednesdays. Not all of us could make every lunch, but there was always a few guys each week that could help provide a mid-week lift in faith.
Find men with a common interest at work, school or on a team and get together away from that activity. Often guys are just waiting for someone to ask. Don't be afraid to take that first step.
"Praising God and enjoying favor with all the people. And every day the Lord added to their number those who were being saved." –Acts 2:47
You don't have to go it alone. It's not how God intended it. We need male friends to help us on our life journey. And, we need men to help rebuild the church, but to do that you've got to be involved, engaged and intentional about your Christian faith.
You can do this, and I promise that you will enjoy a more confident and rewarding life with your own "fools for Christ." Remember, iron sharpens iron and people sharpen people. Until then, I'll be praying for you.
If you enjoyed this reflection, you can have them emailed to you every Monday morning, and not miss a single one.  Subscribe by clicking here. You will be sent an e-mail to verify your subscription.  Just click on the link and you're all set.
Did you know that there is a Finding God's Grace podcast too?  A new episode is posted every Wednesday.  They are less than three minutes long and a great way to start your day.   If you would like to subscribe to Tony's podcast, delivered every Thursday morning at 7AM to your e-mail, simply click here.
I love it when you share my stories with your family and friends.  Below are links to share on your social media sites. Thanks for sharing!

Copyright secured by Digiprove © 2016 Tony Agnesi