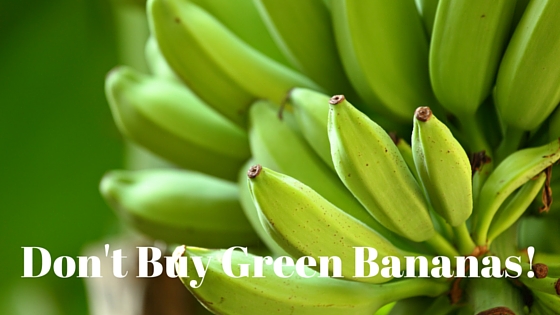 For he says: "In an acceptable time I heard you, and on the day of salvation I helped you." Behold, now is a very acceptable time; behold, now is the day of salvation. –2 Corinthians 6:2
There is a story of a financial advisor who sits down with an 85 year-old man to go over his investments. He suggests a few stocks that should give the elderly man a quick return. Then, the broker suggests that he look at some safer, long-term investments.
"Long term investments," the old man exclaimed. "I don't even buy green bananas!"
There are many stories with the same theme attributed to everyone from Ann Landers to Senator Sam Nunn. Even country artist Jake Owen has a song about an older fishing buddy whose boat was named "Green Bananas." But, in every case the message is clear; life is too short to wait for the things you want.
Just before Christmas, Diane and I attended the funerals or calling hours for six friends and relatives in one week. One was my brother-in-law, who was also a very close friend. Another was only 41 and died in his sleep. Each passing drove home the point that life is too short to wait to do the things we need or even want to do. We can't wait for things to be perfect for us to act. Whether it's a new job, and move to another city, a trip to Europe or to simply visit a friend we haven't seen I years, the time to do it is now!
For many years my mom had planned a trip to Italy. It was her life-long dream. She had her passport ready and on several occasions had booked the trip only to have something happen to cause her to cancel her plans. It was her dream until the day she died. She never made the trip.
Many years later, Diane and I were celebrated our 25th wedding anniversary with a trip to Italy. I brought my mom's passport and had it stamped whenever we passed through customs. In every church we visited, we lit a candle for her, and I vowed never to put off things meaningful things, and that included my faith.
"I am prompt, I do not hesitate in observing your commandments. –Psalm 199:60
Don't wait to say, "I love you."
Don't wait to say, I'm sorry."
Don't wait to forgive.
Don't wait to strengthen your relationship with Jesus.
I hear it all the time.
"I'll go back to church when I get married or when we have kids."
"I'll get married when I lose 20 pounds"
"I'll take that vacation with my family when I pay off the car."
But, before we get around to it something unforeseen happens. An accident, illness, job loss, bankruptcy, or death of a loved one will remind us that life is precious and we may never get the chance to do the things we know we must do, unless we do them now!
The same is true with our faith?
What is God calling you to do? Is He asking you to reconcile with a loved one, forgive someone that has hurt you in the past, or ask forgiveness for something you said that you regret?
Why are you hesitating? Are you guilty of buying green bananas, expecting them to ripen later? Are you simply procrastinating? Or, do you think that it can wait?
"One who pays heed to the wind will never sow, and one who watches the clouds will never reap." — Ecclesiastes 11:4
It is said that Satan's greatest lie is that you have plenty of time to get right with God.
Father Henri Nouwen sums up what we need to do now and every day:
"Did I offer peace today? Did I bring a smile to someone's face? Did I say words of healing? Did I let go of my anger and resentment? Did I forgive? Did I love? These are the real questions. I must trust that the little bit of love that I sow now will bear many fruits, here in this world and the life to come."
Don't wait for the right time, place or circumstances. Life is short; there is no time for hesitation, procrastination, excuses or green bananas!
You can do it!
If you enjoyed this reflection, you can have them emailed to you every Monday morning, and not miss a single one.  Subscribe by clicking here. You will be sent an e-mail to verify your subscription.  Just click on the link and you're all set.
Did you know that there is a Finding God's Grace podcast too?  A new episode is posted every Wednesday.  They are less than three minutes long and a great way to start your day.   If you would like to subscribe to Tony's podcast, delivered every Thursday morning at 7AM to your e-mail, simply click here.
I love it when you share my stories with your family and friends.  Below are links to share on your social media sites. Thanks for sharing!

Copyright secured by Digiprove © 2016 Tony Agnesi