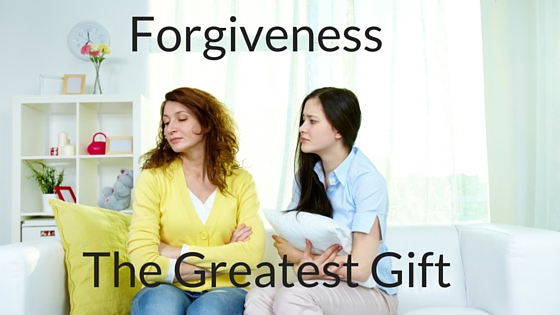 "If you forgive others their transgressions, your heavenly Father will forgive you. But if you do not forgive others, neither will your Father forgive your transgressions." — Matthew 6:14-15
In just a few days we celebrate Christmas, and as we do we begin to experience the anticipation of the holiday. We look forward to being united with family and friends. We hustle to purchase and wrap the final presents. We prepare for the great meal we will share. We can't wait to continue the family traditions that have become an integral part of the season.
We recheck our shopping list and stress out over the possibility that we might have forgotten someone, someone that we love.
Could we be forgetting someone that we once loved, someone that hurt us, someone that we may have hurt? Is there someone that you haven't forgiven or asked to forgive you?
Yes, we try to put the incident or situation out of our mind, but somehow, at Christmas, it all comes back to us. And, it limits the joy and happiness that Jesus' birth should bring us. We are locked in a prison of unforgiveness.
In a spiritual sense, the greatest gift we have ever received from God, our Heavenly Father, is His Son, Jesus Christ. He became man, destined to suffer, die on the cross, and rise again for the forgiveness of our sins. Through Jesus, we are forgiven!
"In this is love: not that we have loved God, but that he loved us and sent his Son as expiation for our sins. Beloved, if God so loved us, we also must love one another." –John 1 4:9-10
That forgiveness comes with a price, we must forgive too! As Jesus' death on the cross unlocks the chains of our sinfulness, we are empowered by the Holy Spirit to forgive those who have hurt us.
So, who is it? Who is the one person in most need of your forgiveness? Whether you visit them, call them, e-mail them, or send a text message, forgive them! Isn't it time to put the past behind you? Isn't it time to look ahead, with our eye on the prize of heaven and everlasting life. Isn't it time for forgiveness?
"Just one thing: forgetting what lies behind but straining forward to what lies ahead, I continue my pursuit toward the goal, the prize of God's upward calling, in Christ Jesus. –Philippians 3:13-14
Unlock the prison of unforgiveness that burdens your heart this time of year. Then, the celebration of Christ's birth will bring you joy and happiness greater than you ever imaged. It might just be the one gift you'll remember for a lifetime.
Merry Christmas!
If you enjoyed this reflection, you can have them emailed to you every Monday morning, and not miss a single one.  Subscribe by clicking here. You will be sent an e-mail to verify your subscription.  Just click on the link and you're all set.
Did you know that there is a Finding God's Grace podcast too?  A new episode is posted every Wednesday.  They are less than three minutes long and a great way to start your day.   If you would like to subscribe to Tony's podcast, delivered every Thursday morning at 7AM to your e-mail, simply click here.
I love it when you share my stories with your family and friends.  Below are links to share on your social media sites. Thanks for sharing!

Copyright secured by Digiprove © 2015 Tony Agnesi