Podcast: Play in new window | Download
Subscribe: Apple Podcasts | Android | RSS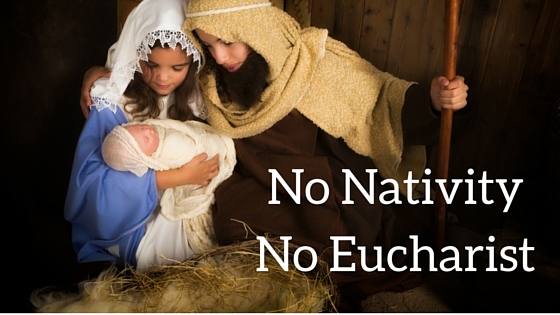 Our living room is rarely used. It has become a place to go to make a quiet phone call, read or just get away from the noise and activity of the day. It's our quiet room.  It is also the place where my wife, Diane sets up the nativity scene each year, a place where I enjoy going to pray and reflect on the birth of our Savior.  In this podcast, Tony discusses the nativity and its relationship to the Eucharist.
Scripture: "And she gave birth to her firstborn son. She wrapped him in swaddling clothes and laid him in a manger, because there was no room for them in the inn." –Luke 2:7
Jesus said to them, "I am the bread of life; whoever comes to me will never hunger, and whoever believes in me will never thirst. –John 6:35
Reflections: Have you ever thought about the nativity and the Eucharist? what do you think of Tony's comparison?  Can we truly have Christmas every day in the Eucharist?
The Finding God's Grace Podcast is available at many of the top web streaming service and on their apps as well.  You can listen and subscribe to the podcasts at the following providers:

Listen at  iTunes-To subscribe and listen via your iPhone or iPad, click here.

Listen to the podcasts on your Stitcher app for iPhone or Android devices.  It's like Pandora for talk shows.  To listen, Click Here.

The podcast is also available at TuneIn an aggregator of radio stations all over the world.  They also have podcasts and the Finding God's Grace Podcast has recently been added.  You can subscribe by clicking here.

For those of you who would rather subscribe by RSS feed, you can access the feed by clicking here.

Copyright secured by Digiprove © 2015 Tony Agnesi