Podcast: Play in new window | Download
Subscribe: Apple Podcasts | Android | RSS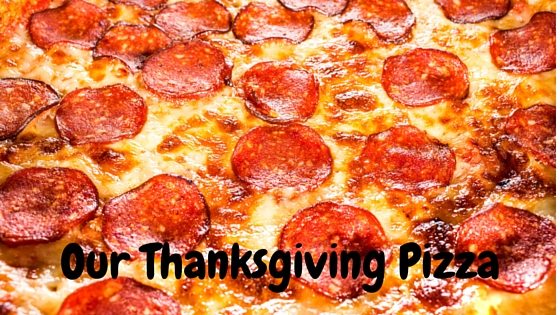 In June, my wife Diane and I celebrated our 43nd wedding anniversary.  In those 43 years, we have had some interesting holiday gatherings, but none like the one in Atlanta, Georgia that never happened.  In this podcast, Tony discusses Our Thanksgiving Pizza.
Scripture:  "A man gave a great dinner to which he invited many.  When the time for the dinner came, he dispatched his servant to say to those invited, "Come, everything is now ready."  But one by one, they all began to excuse themselves".  Luke 14:16-18
Reflections:  Have you ever felt that God was directing your actions?  Do you remember a time when things didn't go as planned?  How did you react?
The Finding God's Grace Podcast is available at many of the top web streaming service and on their apps as well.  You can listen and subscribe to the podcasts at the following providers:

Listen at  iTunes-To subscribe and listen via your iPhone or iPad, click here.

Listen to the podcasts on your Stitcher app for iPhone or Android devices.  It's like Pandora for talk shows.  To listen, Click Here.

The podcast is also available at TuneIn an aggregator of radio stations all over the world.  They also have podcasts and the Finding God's Grace Podcast has recently been added.  You can subscribe by clicking here.

For those of you who would rather subscribe by RSS feed, you can access the feed by clicking here.

Copyright secured by Digiprove © 2015 Tony Agnesi