Podcast: Play in new window | Download
Subscribe: Apple Podcasts | Android | RSS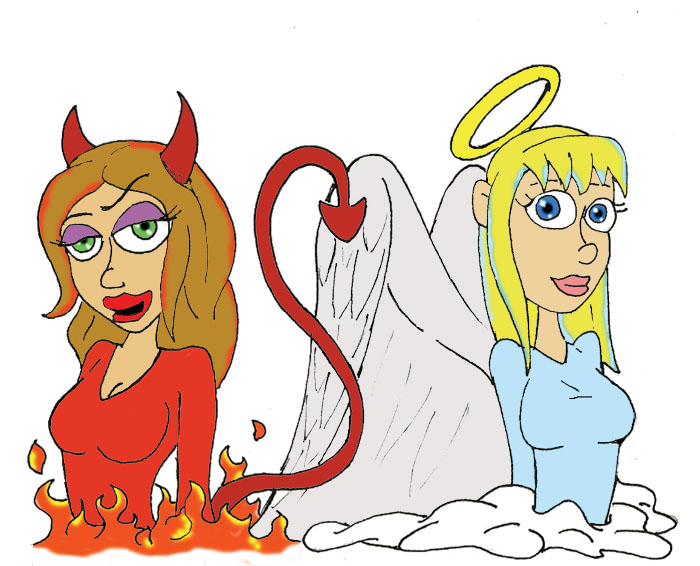 I remembered as a kid the cartoon that depicted the devil on one shoulder and an angel on the other. The devil is whispering in one ear and the angel in the other. The devil is suggesting sin and the angel suggesting goodness.  In this podcast, Tony discusses good and evil.
Scripture: Consequently, brothers, we are not debtors to the flesh, to live according to the flesh. For if you live according to the flesh, you will die, but if by the spirit you put to death the deeds of the body, you will live.  Romans 8:12-13
Quote:  An Old Cherokee told his grandson, "My son, there is a battle between two wolves inside us all."
One is Evil. It is anger, jealousy, greed, resentment, inferiority, lies and ego. The other is Good. It is joy, peace, love, hope, humility kindness, empathy and truth.
The boy thought about it and asked, "Grandfather, which wolf wins?"
The old man quietly replied, "The one you feed."
Reflection: Do you feel this struggle with the wolves within you?  Is there one person, place or thing that you need to avoid?  What can you do to more toward the light and away from darkness?
I am very happy to announce that the Finding God's Grace Podcast is available at many of the top web streaming service and on their apps as well.  You can listen and subscribe to the podcasts at the following providers:

Listen at  iTunes-To subscribe and listen via your iPhone or iPad, click here.

Listen to the podcasts on your Stitcher app for iPhone or Android devices.  It's like Pandora for talk shows.  To listen, Click Here.

The podcast is also available at TuneIn an aggregator of radio stations all over the world.  They also have podcasts and the Finding God's Grace Podcast has recently been added.  You can subscribe by clicking here.

For those of you who would rather subscribe by RSS feed, you can access the feed by clicking here.

Copyright secured by Digiprove © 2015 Tony Agnesi