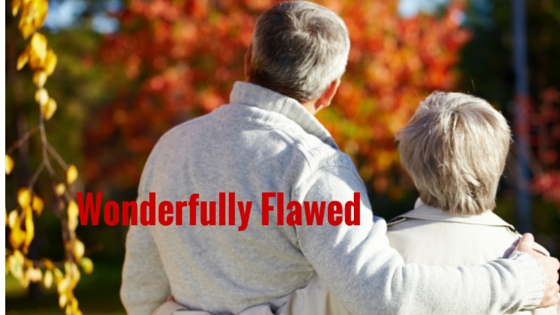 But we hold this treasure in earthen vessels, that the surpassing power may be of God and not from us. We are afflicted in every way, but not constrained; perplexed, but not driven to despair; persecuted, but not abandoned; struck down, but not destroyed; always carrying about in the body the dying of Jesus, so that the life of Jesus may also be manifested in our body. –2 Corinthians 4:7-10
A child is born and we look into the bassinet and we say, "she's perfect!" Ten fingers and ten toes, seven pounds of pure joy, wonderfully made through the miracle of life.
We use the term "perfect" even though we all understand that we are human, we are not perfect, and we all are flawed in some way.
For some of us the flaws can be obvious. We are born blind or deaf, with a deformed hand, cleft pallet, or club foot.
For others, the flaws aren't visible. We look perfect, but we suffer from a mental illness; depression, bi-polar disorder, ADD or autism.
For some, an accident can leave us flawed. A soldier that loses a leg stepping on a land mine in the field of battle, a child burned from a kitchen accident, or a highway crash that causes the victim to be confined to a wheel chair, can alter your life forever.
For still others, we perceive small things as flaws. We are too fat or too thin, too tall or too short, our hair is too straight or too curly, or our ears too big.
And, all of us, no matter how big or small these flaws are, feel as though we have been dealt the wrong cards. We wish that God had dealt us a "better hand."
I praise you, because I am wonderfully made; wonderful are your works! My very self you know. –Psalm 139:1
But if we believe that God doesn't make junk, that we are all wonderfully made, then, everything that God gives us is for a reason. We are all works in progress, we are all wonderfully flawed. We are "earthen vessels" made of clay and molded in the hands of God.
What we do with these flaws says a lot about our faith. Some people just can't handle the flaws, but others, in spite of their flaws use them for the glory of God.
The soldier whose legs were amputated motivates others with his performance on Dancing with the Stars overcoming his flaws and giving hope……. is wonderfully flawed.
The burn victim that visits the local children's hospital to visit young victims to let them know that they aren't alone……she is wonderfully flawed.
The successful blind businessman who volunteers to teach braille to others and offering a role model for success…..he is wonderfully flawed.
The parents of a child born with a cranial deformity who write and speak, form support groups are giving hope to other parents facing the same issues…..because their beautiful child is wonderfully flawed.
The college basketball player that plays through her cancer diagnosis and squeezes every second out of a life cut too short, inspiring others and leaving a legacy……she is wonderfully flawed.
You see, we all have flaws and we all have the ability to take the hand we were dealt and play it for the glory of God. We can be a blessing to others. We can turn our weakness into strength. We can make a difference, wonderful flaws and all.
The next time you are feeling sorry for yourself, remember that others have been given a much more difficult life. The person that you think has the perfect life has problems that we can't even imaging. Let's take our flaws and turn them into a blessing.
Each of us can take our personal crosses and unite them with the cross of our Savior, longing for the perfection that we will have in heaven, but for now, understanding that we are wonderfully flawed.
If you enjoyed this story, you can have  Tony's stories emailed to you every Monday morning, and not miss a single one.  Subscribe by clicking here. You will be sent an e-mail to verify your subscription.  Just click on the link and you're all set.
Did you know that there is a Finding God's Grace podcast too?  A new one is posted every Wednesday.  They are less than three minutes long and a great way to start your day.   If you would like to subscribe to his podcast, delivered every Thursday morning at 7AM to your e-mail, simply click here.
I love it when you share my stories with your family and friends.  Below are links to share on your social media sites. Thanks for sharing!

Copyright secured by Digiprove © 2015 Tony Agnesi