"Above all, let your love for one another be intense, because love covers a multitude of sins." –1 Peter 4:8
Hatred stirs up disputes, but love covers all offenses. –Proverbs 10:12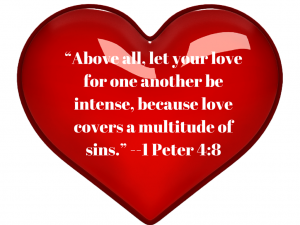 The call of Lent is to turn away from sin, to commit to prayer and devotion that will bring us closer to God as we prepare for the death and resurrection of our Lord and Savior Jesus Christ.
It also calls us to a greater human kindness and a sense of charity to others. It begs us to realize that our sins are no less sinful that those of others around us.
In 1 Peter, we are asked to have such an intense love for one another that our love will cover a multitude of sins. But, what do we mean by "covering" sin?
First, it doesn't mean we ignore sin, not at all. But, if we have an attitude of forgiveness, we must ask ourselves if this is an offense I should let go of?
When someone offends us or sins against us we have two choices, to overlook the offense or to address it. It doesn't make the offense any less a sin, but the Bible is asking us to overlooks some sins against us, to "cover them."
It's not that we condone the sin or pretend that it doesn't exist, but that in spite of failures and faults we choose to love the offender, to refrain from judging them on this one offense and not let this indiscretion ruin our relationship.
We can "cover" others by always assuming the best of everyone. And, that means not gossiping, and sharing their sins with others. Love covers bad decisions, selfish, stupid, shameful, unwise decisions. It doesn't lessen the sin but in Christian charity is gives them the benefit of the doubt and offers a second chance.
When Jesus confronted the adulterous woman, he didn't condemn her as scribes and Pharisees did, demanding that she be stoned to death.
On the contrary, he asked those without sin to cast the first stone. And, when no one stepped up to cast a stone, Jesus "covered" her sin with love.
He acknowledges her sin and told her to go and sin no more. His was an attitude of forgiveness, the attitude we should have too.
She replied, "No one, sir." Then Jesus said, "Neither do I condemn you. Go, [and] from now on do not sin anymore." –John 8:11
This Lent, let's make an effort to be less judgmental, to be aware of our own sinfulness and not be so quick to point out the sins of others.
How can we accomplish this?
First, we need to not sweat the small stuff. We should always take a moment and ask ourselves if this is an offense that I shouldn't just let go of and cover with love?
This doesn't mean we ignore the sin but if we must address it do it privately and don't discuss their sins with others.
Secondly, we should assume the best in others. Let's try to give our family members, friends, fellow workers and people we meet the benefit of the doubt and be more charitable in our judgment.
Finally, after serious thought and reflection decide to overlook it or address it. And, if we do feel it necessary to address it, let's take a lead from Jesus and do it quietly, discreetly and with great love.
Lent, it's a time to reflect on our own sinfulness, our own shortcomings, our own selfish, shameful and unwise decisions. In doing so, we will become more charitable, less judgmental, and forgiving. Isn't that what Lent is all about?
We can do it, my friend. That's my prayer today.
If you enjoyed this story, you can have  Tony's stories emailed to you every Monday morning, and not miss a single one.  Subscribe by clicking here. You will be sent an e-mail to verify your subscription.  Just click on the link to verify your address and you're all set.
Did you know that there is a Finding God's Grace podcast too?  A new one is posted every Wednesday.  They are less than three minutes long and a great way to start your day.   If you would like to subscribe to my podcast, delivered every Thursday morning at 7AM to your e-mail, simply click here.
And, we are pleased to announce that the Finding God's Grace Radio Program is now available for subscription too!  Just click here to subscribe, or you can subscribe through your Stitcher app for your Android or Apple device.
I love it when you share my stories with your family and friends.  Below are links to share on your social media sites. Thanks for sharing!

Copyright secured by Digiprove © 2015 Tony Agnesi