Yet even now—oracle of the LORD—return to me with your whole heart, with fasting, weeping, and mourning. Rend your hearts, not your garments, and return to the LORD, your God, For he is gracious and merciful, slow to anger, abounding in steadfast love, and relenting in punishment. –Joel 2:12-13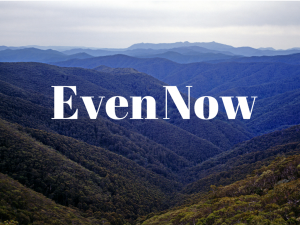 There is something very appealing about Lent. It calls us to cleanse something from within, to burn away or rend those things that keep us from a wholehearted relationship with God.
That is why there are often more people at mass on Ash Wednesday than on any given Sunday. Those ashes are a symbol, an outward sign of this cleansing.
The real work of Lent is not about shaming ourselves; it's not about a guilt trip for our sins. Lent offers us a sense of reconnection, of returning to God wholeheartedly; it's about moving forward leaving our past sins behind and having a deeper relationship with Jesus Christ.
For he says: "In an acceptable time I heard you, and on the day of salvation I helped you. Behold, now is a very acceptable time; behold, now is the day of salvation. –2 Corinthians 6:2
Now is an acceptable time to get started. Even now, we can stop resisting a relationship with God, and follow him. Not in a superficial way, but with our whole heart.
Even now…..what seems hopeless in your life can be made whole.
Even now…..your marriage on the brink of divorce can be restored.
Even now…..your children who have left the faith can return.
Even now…..your job search can end with a new beginning.
Even now…..your cancer can go into remission.
Even now…..if only we return to the Lord with our WHOLE heart.
Be encouraged. In Matthew 7:8 we are told: For everyone who asks, receives; and the one who seeks, finds; and to the one who knocks, the door will be opened. It's guaranteed!
Want to get closer to Our Lord? Then, we need to spend some time with Him. Let's really try to put into place the tenants of Lent; Prayer, Fasting and Almsgiving. Let's take some time during Lent to make it a point to love God more wholeheartedly. Here are a few things you can do.
Attend mass. Not only every Sunday, but during Lent why not try to add another mass during the week. There are many churches that offer mass early morning, or in the evening. I like to attend mass during my lunch hour. And, try to attend at least one service during Holy Week.
Increase your prayer time. There are always moments you can find to pray. I like praying in the car on my way to and from work. It helps me be in a better place when I get to work and prayer relieves the stress of the day on my way home.
Read scripture, a good book or a Lenten devotional. There are some really good Lenten books and devotionals that can help you in your attempt to be more wholehearted in your relationship with God.
Give up something that will help another. It is one thing to give up that double latte, but then donate the money saved over the 40 days to your favorite charity.
Get involved in a service project. The local St. Vincent DePaul Society, Salvation Army, a homeless shelter, or a warming station could always use an extra hand.
Let's make this the best Lent ever. Let's take the time to love Our Lord wholeheartedly, so that at Easter when we proclaim, "He is Risen" we can all declare with love and conviction, "Alleluia!"
If you enjoyed this story, you can have  Tony's stories emailed to you every Monday morning, and not miss a single one.  Subscribe by clicking here. You will be sent an e-mail to verify your subscription.  Just click on the link and you're all set.
Did you know that there is a Finding God's Grace podcast too?  A new one is posted every Wednesday.  They are less than three minutes long and a great way to start your day.   If you would like to subscribe to his podcast, delivered every Thursday morning at 7AM to your e-mail, simply click here.
And finally, The Finding God's Grace Radio program is also available by subscription.  You can get each weeks show email to you so that you can listen whenever you choose, on demand.  Subscribe to the radio show by clicking here.
I love it when you share my stories with your family and friends.  Below are links to share on your social media sites. Thanks for sharing!

Copyright secured by Digiprove © 2015 Tony Agnesi