Podcast: Play in new window | Download
Subscribe: Apple Podcasts | Android | RSS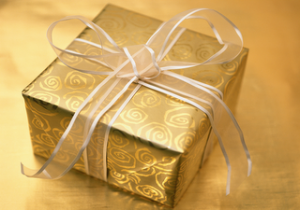 As we get older, receiving presents at Christmas isn't quite as important as the people we have around us.  Family and friends become very important at Christmas time.  There is not a parent alive that wouldn't trade even the biggest present for having their family together at the holidays.  Sons and daughters, grand kids, and friends, who are  living far away are the best Christmas gifts.  In this podcast Tony discusses how their presence in your holiday is the best Christmas present you could receive.
Scripture: And the Word became flesh and made his dwelling among us, and we saw his glory, the glory as of the Father's only Son, full of grace and truth.  John 1:14
Quote: Lord, make me more attentive to the presence of the people around me this Christmas, my wife, children, and friends. Let me not be distracted by the hurried pace of the things of the secular world that are not important.  Help me, Lord, to be more attentive to you as well, in my prayer life and in helping those less fortunate around me.  Help me to spend this Christmas, attentive to the presence of the Holy Family, and my own family, this day.  Their presence will be the best present I receive this Christmas. –Tony Agnesi
Reflection:  Do you agree that receiving a present at Christmas isn't as important as the people around us?  What can we do to shut out the secular pressure to buy more presents?  Which is most important, the gift, the giver, or the receiver?  How do you relate to Jesus as God's gift to use at Christmas?  What can you do to keep Christ in Christmas?
I am very happy to announce that the Finding God's Grace Podcast is available at many of the top web streaming service and on their apps as well.  You can listen and subscribe to the podcasts at the following providers:

Listen at  iTunes-To subscribe and listen via your iPhone or iPad, click here.

Listen to the podcasts on your Stitcher app for iPhone or Android devices.  It's like Pandora for talk shows.  To listen, Click Here.

The podcast is also available at TuneIn an aggregator of radio stations all over the world.  They also have podcasts and the Finding God's Grace Podcast has recently been added.  You can subscribe by clicking here.

For those of you who would rather subscribe by RSS feed, you can access the feed by clicking here.

Copyright secured by Digiprove © 2014 Tony Agnesi