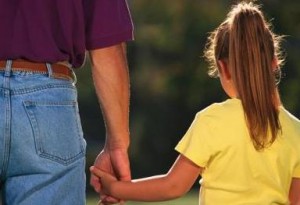 As a father has compassion on his children, so the LORD has compassion on the faithful.  –Psalms 103:13
Years ago, I was asked to help coach a high school girls' soccer team.  At that time I had only coached boys and as a father with two sons and no daughters, coaching young women was a little scary.
I made some adjustments in my approach from years of coaching boys and young men and thought I was doing well.  That was until the captains wanted to have a private meeting with me.
"Coach A.," one of the captains began, "You are a great soccer coach but you've got to quit trying to be a father to us!"
A second captain, feeling less timid because now the subject was in the open added, "We already have a father meddling in our lives, we don't need two!"
Embarrassed, I agreed to comply with their wishes, and told them that I would do my best to just be a coach.  The rest of the meeting was pleasant and we talked about soccer only.
As the meeting broke up and the girls left, one of the captains, the one who had remained silent during the discussion, approached me.
"You don't have to change for me.  I don't have a father and lending an ear, giving advice and just listening to me is something I never had as a young kid growing up.  You are the closest thing I have ever had to a father, so don't stop now.
I was reminded of this meeting during my jail ministry this past week.  As our team waited in the classroom, four female inmates entered the room.  I looked at them and for some reason they all looked familiar.
I looked at the first and said, "You look very familiar to me.  Do I know you?"
"Sure, Tony," she replied. "I have been here five times in the past eight years."  The same thing was true for two of the other women; one had been in jail three times and another two.
As we were finishing the prayer service and waiting for the guard to arrive to take them back to the pod, the first woman said to me out of the blue, "I wish I was your daughter."
"Thank you," I replied slightly embarrassed.  I am a father, but I only have sons, and a great daughter in-law!"
"Not so," she said correcting me. "Back in the pod, you have more daughters that you can imagine!"
"I do?" I said humbly.  "Then, you can be my daughter too!"
I had a warm feeling as we left the jail that night, and as we passed the laundry, I heard someone call out my name, "hi Tony!"  It was another inmate I knew.
She told me that she had been sentenced to a year in prison, but wanted to assure me that when she is released she will be a changed person.  Then she thanked me for my advice over the past several months, and for just listening.
"No one cares how much you know, until they know how much you care"  –Theodore Roosevelt
I share these two stories for two reasons.
First, one of the biggest failures in our society is the number of kids, boys and girls, who grown up without a father or father figure in their life.  They long for a man who loves them unconditionally, cares for them more than life itself, a never wavering symbol of strength.
And secondly, YOU can be that person!  As a teacher, coach, neighbor, uncle, or family friend, you can fill that void.  And, many of you already are, and don't know it.  Your example of listening, answering questions, giving advice, extending a hand, and being a non-judgmental, loving man, is having an effect that is bigger than you will ever know.
I pray for the day you too will hear those words, "I wish I was your daughter, or I wish I was your son!"  For those of you who have, you will understand this feeling that I have that is impossible to explain, and why I pray every day for kids without fathers.
To get Tony's latest posts delivered to your email every week, simply subscribe but clicking here. Remember, you will be sent an e-mail to verify your subscription.  Just click on the link and you're all set.
Thank you for sharing my stories with your family and friends.  Below are links to share on your social media sites.

Copyright secured by Digiprove © 2013 Tony Agnesi